For those users in North America, VNS ships with a fairly good collection of foliage image objects. You can usually find the foliage you need in the WCSProjects\Components\Image\Foliage folder (unless you visualize scenes of the desert southwest like me). These foliage images may not be appropriate for users in the rest of the world. While there are collections of images available, most of them contain unidentified trees and rarely a selection of several specimens of the same species. Traveling to locations to photograph trees and the time-consuming process of preparing the images for use is often not an option.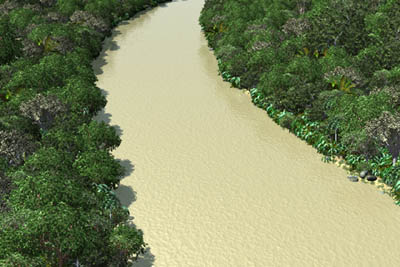 Amazon project using foliage images rendered from the XfrogPlants Tropical collection
Rendering tree images from 3D tree models has several advantages. Collections of 3D tree models are readily available and affordable. Tree models can be rotated and material colors changed to give you a great variety of objects in a short amount of setup and render time. Greenworks offers XfrogPlant collections (www.xfrog.com) with several models of each tree and UV-mapped leaf and bark textures. Xfrog software is not required to use these models; just order a collection in the Wavefront OBJ format and follow Adam Hauldren's tutorial to assign the UV material textures in VNS.
OnyxTree (www.onyxtree.com) is an another excellent tree modeling program though more expensive than Xfrog. The additional expense is more than offset by the hundreds of tree models that are included with the combined programs (Conifer, Broadleaf, Bamboo, and Palm). The only negative aspect of the program is the agreement you electronically sign every time you export any tree model or image, agreeing not to "sell, resell, give away, or distribute any image/model created by this software or a derivative of it in any way, shape, or form".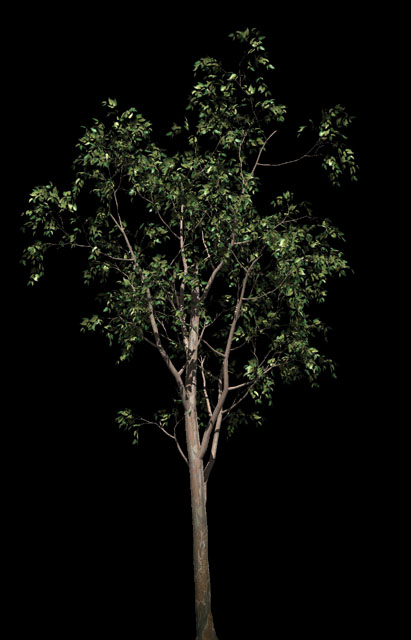 Xfrog model rendered in LightWave
If you have a 3D program like LightWave or 3ds max, you will have the most control by rendering 3D tree models there. The following method is for those you don't have access to these programs and would like to render tree models in VNS or WCS.
Tutorial
1. Create a new project, Tree. The screen captures that follow are from VNS 3.03 but the method works in any version of WCS or VNS.
2. We need some terrain to work with, flat and small. Open a Terrain Generator and create an acre-sized parcel with 50 rows and columns.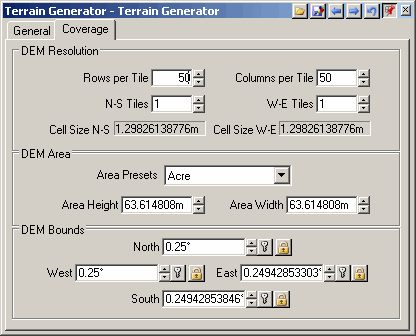 3. Make the Elevation Range 0 and Create DEM.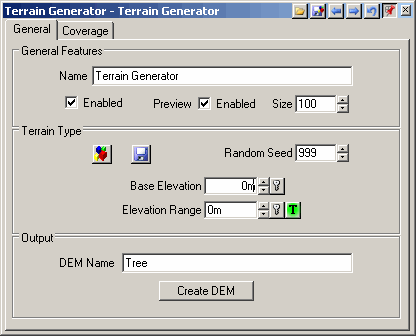 4. Open a Tree Camera view. Add a 3D Object and Load 3D Object from disk. Choose 3DObject\Tree\Salix babylonica 2B_UV.lwo. By default, a geographic instance of the object will be placed in the center of the terrain.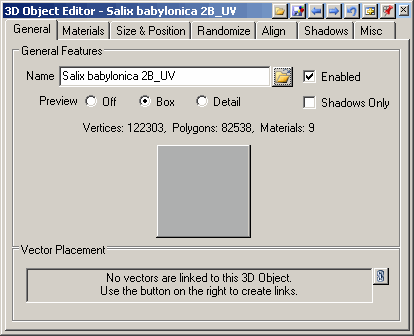 5. This is a 6-m willow that was originally modeled in OnyxTree. One disadvantage to using someone else's tree model is that they may have been lazy modeling it. This one is a classic example. The Materials have generic names. This is fine if you only have one tree but you never have one tree. Material names should always be specific to the model and easily identifiable.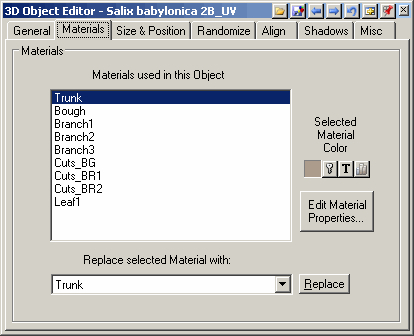 6. We could use a prefix specific to the 6-m model, but all willows will share the same Materials. I prefixed each Material name with Sb_.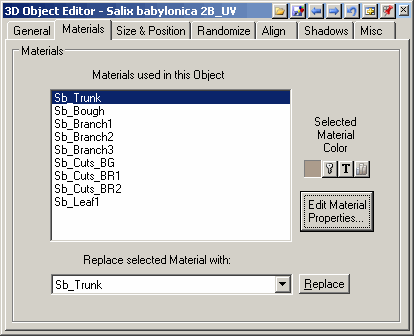 7. The only way to save your settings to this model is to save it as a Component. That's always a good idea because it saves all your VNS-specific Material textures.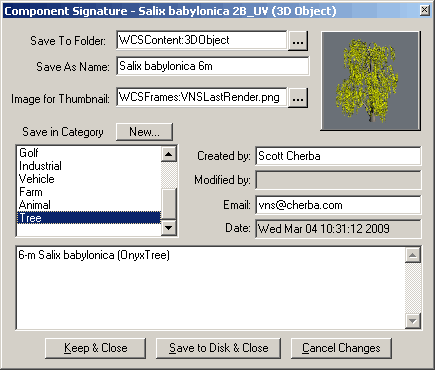 8. Change the 3D Object Preview setting to Detail.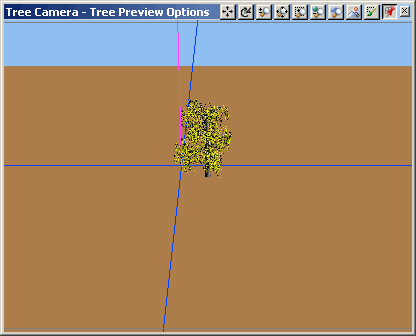 9. By default the camera faces north, which is where we want it. Target the Tree Camera at the willow.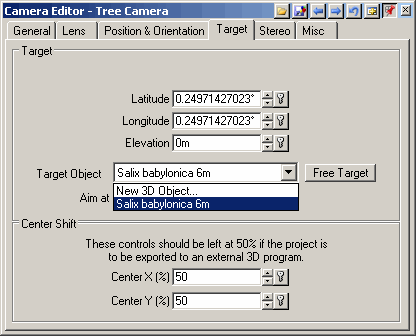 10. We'll use a long lens to minimize image distortion. A HFoV of 15º will do nicely.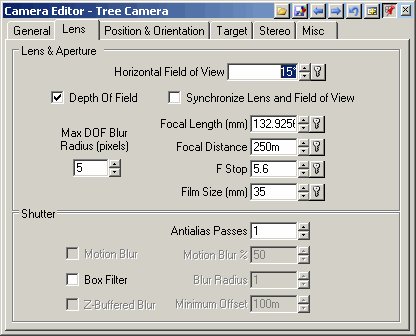 11. We also need the camera axis to coincide with the tree's vertical center. Change the camera elevation to 3 meters.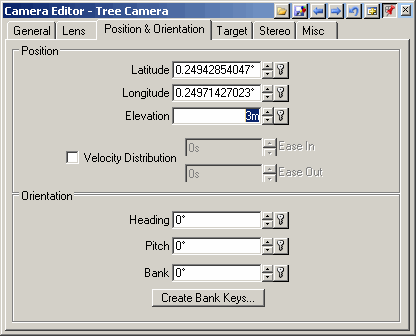 12. Your Tree Camera view should look something like this.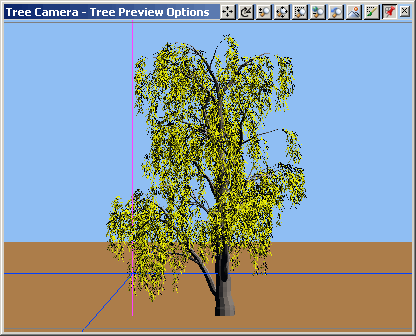 13. Do you need shadows? Here's a render without.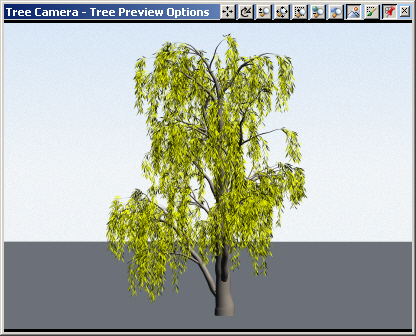 14. 3DO shadows have a default Received Shadow Intensity of 75%. For our purposes that's going to be too dark. Reduce the Received Shadow Intensity to 5%.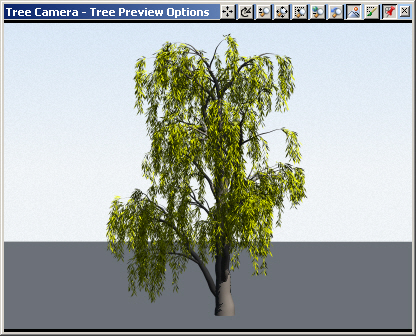 Received Shadow Intensity of 75%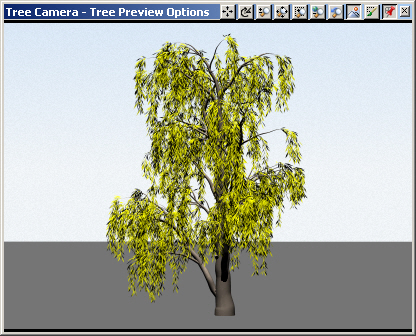 Received Shadow Intensity of 5%

15. Light position. Render 3 pm light to compare to 10 am light. A common problem with stock foliage images is that the light position varies. A noon light puts the sun directly behind the camera. This is a good place to have it if you want a versatile foliage image.

Light Position by Time: 12:00 pm
16. Foliage Image Objects need to be against an RGB 0, 0, 0 background. Disable the Sky, Atmosphere, and make the Ground Effect fully transparent.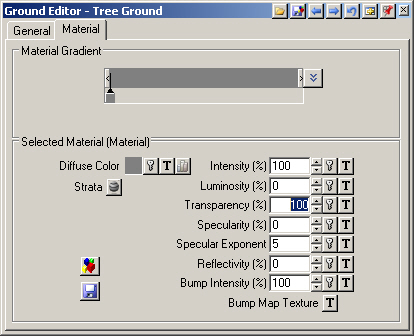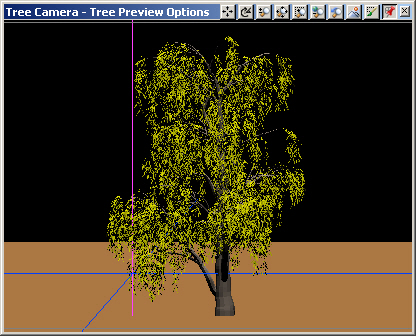 17. Render a preview and save the image as Willow100. The 100 is for the intensity, as we'll see in a moment.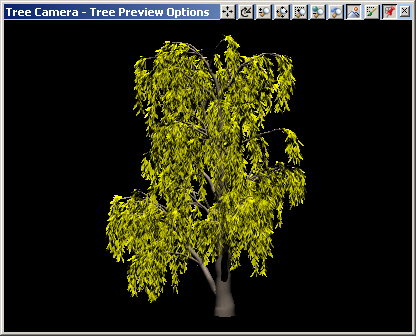 18. Clone the Tree Camera and call it 2 Trees. Open the 2 Trees camera and move if south so there's room for a second tree beside the first. Rotate the view. Click a spot in view where a second tree should go. This will give as an east-west distance to work with in the next step.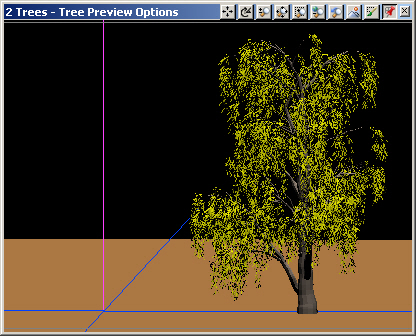 19. Open the planimetric view and zoom in. Add a Foliage Effect and click a location west of the 3D tree along the N-S line represented by the cross-hairs. Name it FE.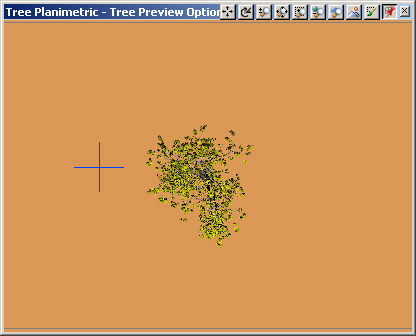 20. The willow is 6 meters tall so adjust the Foliage Effect Heights accordingly. Add an Willow FG.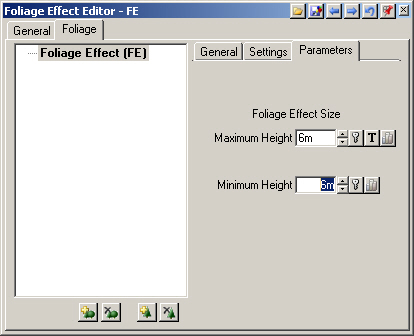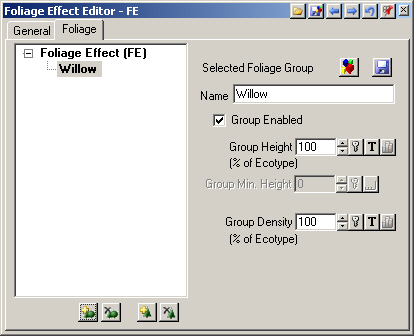 21. Add the Willow100 image and disable Random Flip X.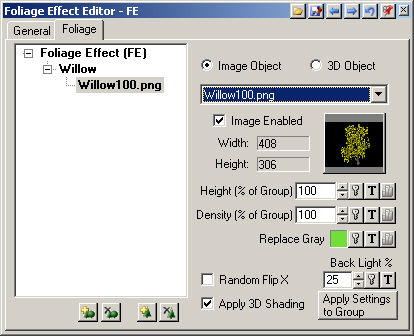 22. Render a preview. The FE tree is a bit dark. There are several things we could try to lighten it up. The best solution is to create a lighter image to start with.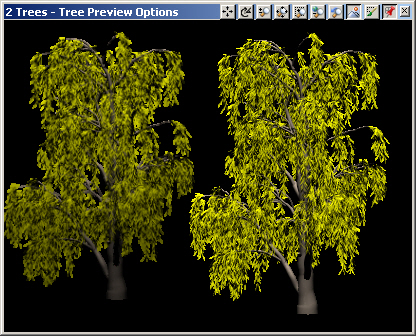 23. Rename the Tree Sun Light Intensity 100.
24. Clone the light, rename it Intensity 25 and decrease the light intensity to 25. Lights are additive so the total light intensity will be 125% when both lights are enabled.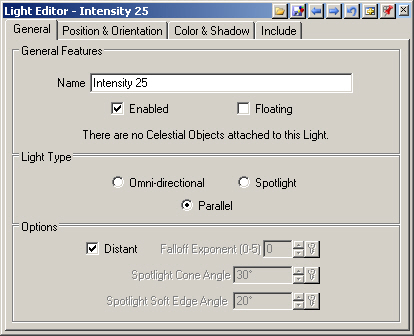 25. Clone the Tree Preview Options, rename it No FE, disable FEs for rendering, and assign it to the Tree Camera view.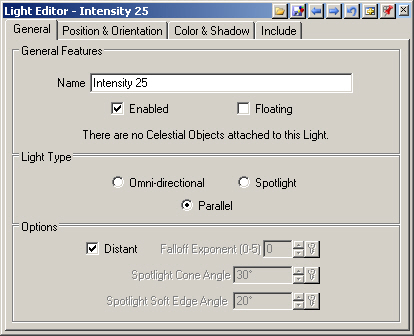 26. Render another preview and save it as Willow125.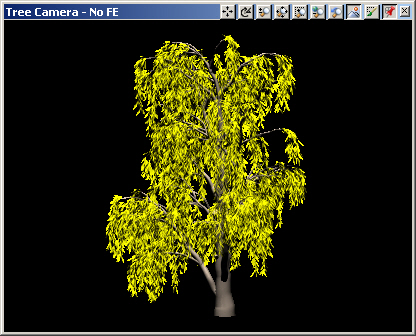 27. Find the FE Editor and replace the Willow100 image with Willow125. Render a 2 Trees preview.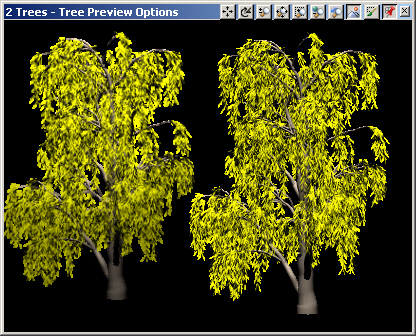 28. That's pretty close. You may have to adjust the light intensity for different 3D foliage models to match the 2D and 3D lighting.
29. Now to prepare for rendering to disk. Add a Render Scenario, Intensity 125, which turns the Intensity 25 Light on.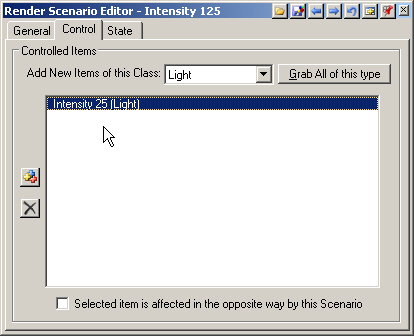 30. Open the Tree Render Job and add the Intensity 25 Render Scenario.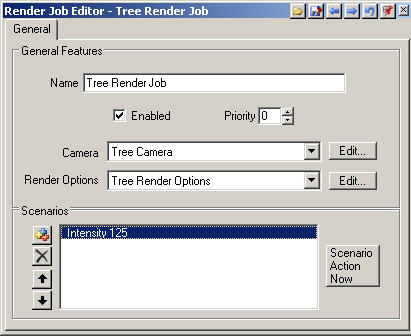 31. Choose a pixel height per meter, for example, 100 pixels per meter. Your value will depend on the desired resolution of your collection of foliage images. Scale the rendered image height accordingly, 600 in this case. Scaling your rendered images in this way will give them all the same level of detail whether it's a small bush or tall tree. Name the Image File Willow-6m.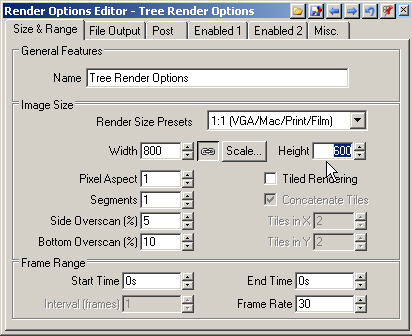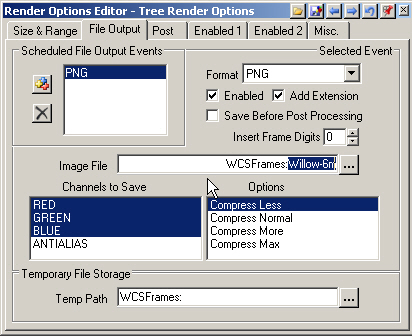 32. Disable FEs to keep your test image out of view.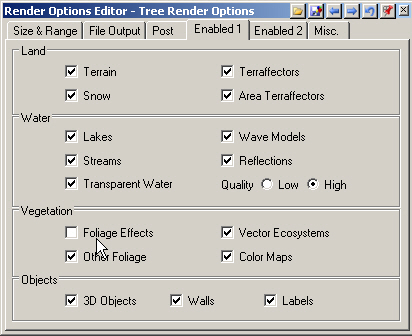 33. Open Render Control and render the image. Crop the image in Photoshop with the base of the trunk at the bottom center of the image.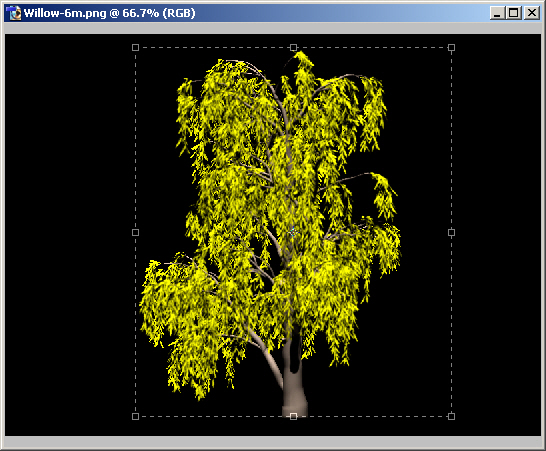 34. You can render high resolution foliage images in VNS and downsample them in Photoshop. Just remember to use the Nearest Neighbor resampling algorithm or you'll end up with a fringe around your VNS foliage.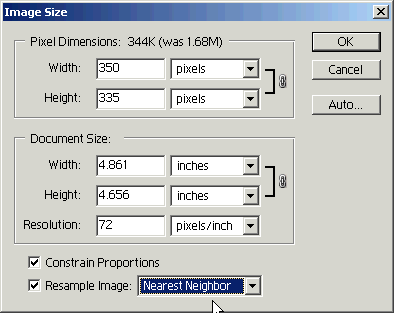 35. Find the FE Editor and replace the Willow125 image with Willow-6m.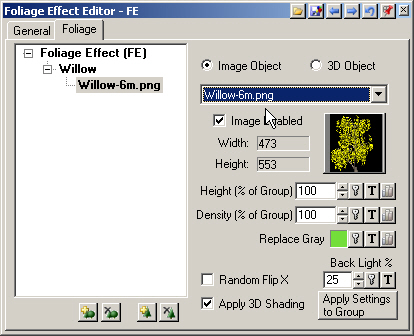 36. Disable the Intensity 25 Light, enable Skies, and render a 2 Trees preview.