/3GB switch
Only 2 GB of RAM is allowed per application in 32-bit Windows. If you have enough physical memory, you can use 3 GB with the /3GB switch. I urge caution, though, as my computer was rendered unstartable when I made the change.
http://www.microsoft.com/whdc/system/platform/server/PAE/PAEmem.mspx
http://3dnature.com/faq/index.php?qid=85&catid=41
Animations longer than 99,999 Frames
Default is for 5 frame digits. Don't forget to increase for longer animations.
Network rendering options
This topic has been brought up many times on the WCS user list. Despite our best efforts, there still seems
to be confusion.
Users have 2 basic options when rendering across a network. It doesn't matter whether you use SC or not. The options remain the same.
1) Run WCS from a rendering 'server'. Map the 'server' WCS folder as the same drive on the server and all clients as described in the SC tutorial. This method is easy to set up and removes the need to keep track of Paths and copy files across the network. Users that follow this method will have the fewest problems. Disad: Possible network slowdown.
2) Run WCS locally on each client. The easiest (and my recommended) way to use this method is to copy the entire server WCS folder to the same drive on each client. That removes the need to keep track of Paths and leads to the fewest problems. Disad: Lots of copying across the network.
Other methods are variations on these two themes, or worse yet, a cross between them. Choose that path at your own peril. I cannot stress this enough. Keep it simple. Or ignore the wisdom of experienced users and perish.
If you stick to one of these basic configurations, you will have the fewest problems. If you choose to mix, match, and confuse the setup, you're asking for trouble. And the more you complicate matters, the harder it will be for anyone to help you troubleshoot it.
Network rendering with SuperConductor
Before SuperConductor, this section was longer. Now, you just follow the tutorial and render! A few quirks have been reported. My farm machines run Windows 2000 Server, XP, Vista, Server 2008, and Windows 7.
- Follow the tutorial to the letter. Render farms can be flaky if you don't do everything just right. Some users find prayer and/or sacrifice helpful.
- Network and server traffic can be factor. Dedicate a server and don't use it during rendering. WCS is set up to automatically retry file access failures five times within a few seconds to avoid this problem. Unfortunately, if the server is unresponsive for too long, an error will occur and the affected node will stop rendering.
- Problems apparently linked to Win98 and WinXP were reported, but I haven't had any.
Some other things to keep in mind when using SC.
- If you have lots of client machines, this can mean lots of network traffic. At some point this will slow the network down.
Projected planimetric images
VNS only. Camera Editor > General page > Projected. Choose a Coordinate System from the dropdown list.
Reducing render time with effect_block_init (VNS 3)
The Advanced Config Option effect_block_init may reduce render time if you have complex vectors covering a large area with multiple DEMs. It performs vector processing once per DEM using only the vectors that impact that DEM. I know of no disadvantage to using this option and recommend it for all projects.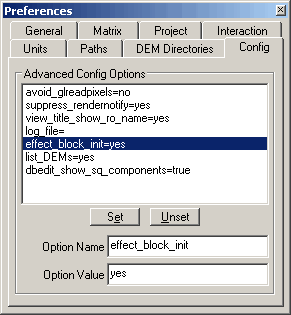 Render Speed
If you haven't already, check the Interactive Reference Manual for tips and speed. The manual is ALWAYS a good place to start.
Here are some obvious and not-so-obvious places you can cut render time.
General
-Change camera elevation, pitch, etc., to reduce the amount of visible terrain.
-Use terrain data with high enough resolution but not higher than you need to create the look you want.
-Use textures where they add detail but don't use them gratuitously, they will add to rendering times. Use 2D textures instead of 3D if you can. Some texture elements take longer to render than others so do rendering tests and choose texture elements that give you the look you need but render the fastest.
-Do render tests while enabling and disabling various components and see which ones add significantly to rendering time. Then see if you can streamline the render intensive ones to them to make them more efficient.
DEMs
-Tile terrain
-Use the largest grid size you can get away with.
-Disable DEMs you can't see.
-Use vectors to limit shadows to the near camera area only.
-Render in segments for high resolution projects. Disk swapping slows things down.
Terrain Parameters Editor
-Use Fractal Depth Maps for animation and stills that use shadows; use the Variable Fractal setting for other stills.
-Set Maximum Fractal Depth as low as you can, but high enough to break up terrain polygons sufficiently.
-Increase Maximum Pixels per Polygon (I generally use 2 but you can use decimal amounts).
Draped Images
-Limit high-resolution orthos to areas where detail is seen; use low-resolution images for distant terrain.
-If many orthos are used, mosaic them.
Camera Editor
-Use only the number of AA passes you need.
Shadows
-For all shadows (Shadow Effect Editor, 3D Object Editor, Cloud Editor): select the Use File checkbox.
Ecotypes
-Don't use a higher Ecotype density than you really need.
-Use Image Object Distance Dissolve.
Image Object Library
-Select Keep in Memory Long and Load Fast options on the Image page.
3D Objects
-Set the render quality as low as you can get away with but high enough to produce satisfactory results.
Render Options
-Disable Render Diagnostic Data on the Enabled 2 page. You won't need it if you're rendering final output. This will free up valuable memory and may head off memory-related errors.
Reducing VNS 3 Polygon Merge Times
-If you have many thousands of polygons and vectors over a large area, you may encounter long "merging polygon" times. Try adding the effect_block_init advanced config option in the main Prefs window with a value of yes. This will enable more complex (but newer and less-tested) code that may process your geometry faster. If that doesn't help, you can render using VNS 2-type rasters by deselecting the Vector Polygon Rendering Enabled (Common) checkbox on the General tab of the Ecosystem Editor. This is a global setting so all Ecosystems will use the older one-Ecosystem-per-polygon method. This method is not as precise as vector polygon rendering but it's faster to evaluate.
Segments
Highly recommended for large images. In fact, you may not be able to render them otherwise (see Errors).
-Number of segments should divide evenly into height.
-Use plenty of Bottom Overscan to prevent chopping off foliage between segments. For VNS users, try Tiled Rendering with several Tiles in X and a Tiles in Y value of 1. In this case you'll use Side Overscan. It usually takes less Side Overscan to accomplish the same results as regular segment Bottom Overscan. After all, foliage tends to be vertical, so vertical Tiles make sense.
-Reflections do not work well with segments. I repeat (for those who disregard this warning), water reflections do not work well with segments. Water can only reflect what's in rendered view. Each segment is rendered on its own so it can't reflect anything in other segments. That means segment seams within the final image will have mismatched reflections. To work around this limitation, render another job with n+1 or n-1 vertical segments. This will give you coverage along the original seams. Combine the two images.
-If you need to render in segments, memory is at a premium. Disable Render Diagnostic Data on the Render Options Editor Enabled 2 page.
Tips for Reducing Memory Consumption
Even if you have plenty of RAM (more than 2 GB per cpu or core) and make it available for Effects, you'll eventually hit the silly Windows 32-bit limit (2 GB or 3GB for large-address aware apps) or 64-bit limit (4 GB for large-address aware apps). Those of us old-time animators from the early days of desktops learned the art of trimming projects to render them within strict memory limitations. For those youngsters accustomed to the brute-force method of computing: learn to be lean!
-Search these hints for memory
-Chris Hanson's memory-saving hints at 3DNature.com