The folks at 3D Nature are always working to give users more control over WCS worlds. Early in September 2000, version 5.21 was released with Beach enhancements. The following addendum to the 3D Artist article addresses this change.
If you don't have version 5.21 yet, open WCS and select Help>Online Updates to connect to 3D Nature and download the most recent version. The Interactive Reference Manual was also updated to version 1.5 with this release. Get it at http://www.3dnature.com/update.php.
1. Open the Ocean Lake Editor. Let's make a few changes so our v5.21 Beach looks like our old v5.20 Beach. Set the Beach Height Minimum and Beach Height Variation to 1 m.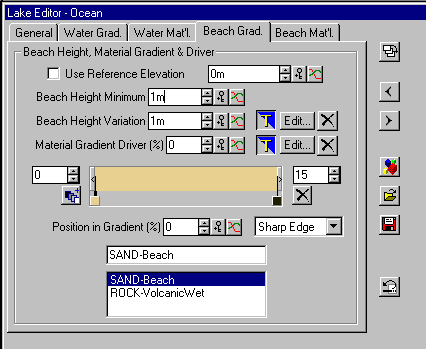 2. Select Beach Height Variation texture Edit to open the Texture Editor. Choose the Terrain Parameter Element and Relative Elevation Parameter.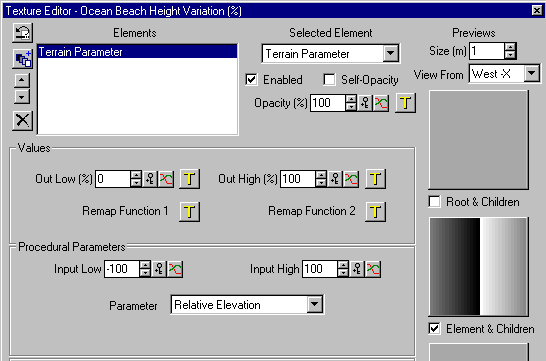 3. Now let's look at the Use Reference Elevation checkbox and associated entry box. If we leave the box unchecked, the beach will rise and fall as the Ocean elevation is changed on the General page of the editor. That means our SAND-Beach will disappear if we drop the Ocean elevation a few meters.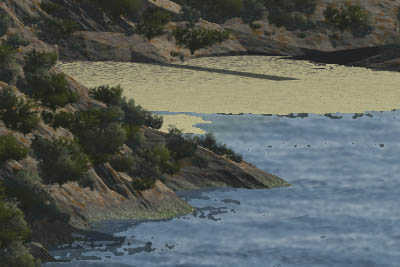 Beach at 1000m Ocean elevation with Use Reference Elevation deselected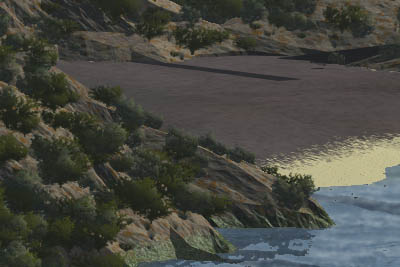 Beach at 997m Ocean elevation with Use Reference Elevation deselected.
The Beach has lowered with the Ocean.
4. We want our beach to stay where it is no matter what the Ocean elevation is. Select the Use Reference Elevation checkbox and enter 1000. Why 1000? That's the Ocean elevation we started with.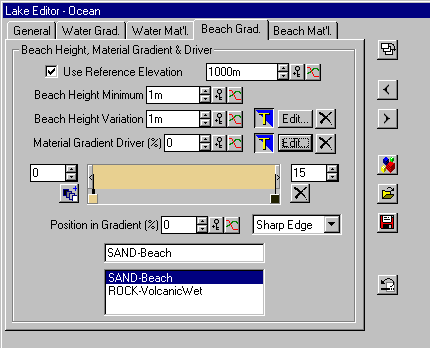 5. Time for another Preview Render.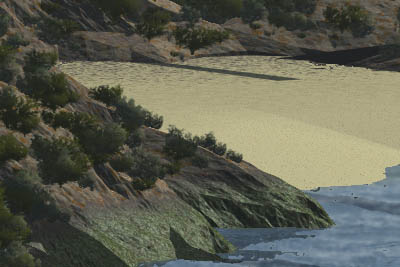 Beach fixed at 1000m Reference Elevation. Ocean elevation is 997m.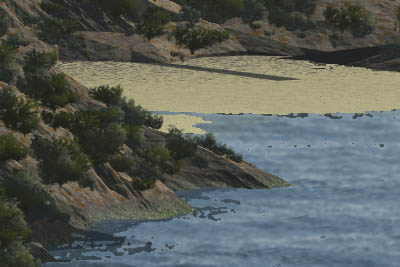 Beach stays fixed as Ocean is raised to original 1000m elevation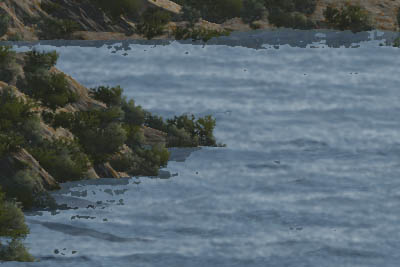 Just for kicks, let's melt some polar ice and flood Foliage and Beach as
Ocean is raised to 1003m elevation