Soldier Trail

Coronado National Forest
Santa Catalina Mountains
Tucson, Arizona

Distance: 5 miles round trip
Type: out & back
Time: 1.5-hr run
Season: not summer
Elevation Range: 3250-4800 ft
Permit Required: no
USGS 7.5' Topo: Agua Caliente Hill
Wilderness: no bikes

Trail Map (1.3 MB PDF)

Updated 12/2009
Description
The trail starts unforgivingly on an exposed south-facing slope. It's a steep climb for the first half-mile and, after a brief respite, continues to climb steeply. You'll be rewarded with views without the crowds. For a longer hike or run you can continue on the Arizona Trail or Bug Spring Trail.
How to get there
Take the Catalina Highway to the Soldier Trail Trailhead (on left) at mile 1.3.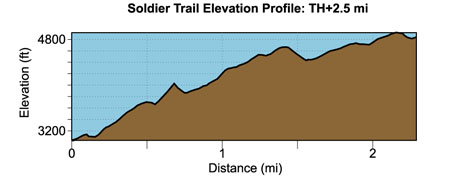 Trail Log
This is an easy trail to follow. It's the only one until you reach the old prison camp at about 2.6 miles.
Notes
Start early to avoid traffic and heat on the trail.