Agua Caliente Trail

Coronado National Forest
Santa Catalina Mountains
Tucson, Arizona

Distance: up to 8.4 miles
Type: singletrack, out & back
Time: as long as you want
Season: not summer
Elevation Range: 2900-5369 ft
Permit Required: No

Quick Rating: hot scenic climb
Description
The trail is close to town and offers technical singletrack that can be short or long depending on your time and energy. You'll climb exposed ridges that offer panoramic views of the Catalinas, Rincons, and multi-million dollar estates climbing the surrounding slopes. After the first mile trail difficulty increases as you climb into less traveled country. It may have been a jeep trail years ago but you'd never know it to ride it.
Rating
This is a wonderful trail for hikers with dogs and offers plenty of scenic views with little traffic. If you're a mountain biker and don't like to push yourself with long hard climbs, stay away. Steep, loose, and almost continuous climbing make this a technical challenge. Expect to hike your bike up several steep sections, especially the last climb to the pass at 2.5 miles (3.0 miles according to the NFS sign) and between the pass and Agua Caliente Hill. Toss in the desert elevation, exposed ridges, and rough trail and you've got a potentially miserable ride if you're not prepared. The good news is you can turn around any time for a downhill ride back. Don't let that fool you into thinking it will be an easy ride back down. All those rocky, steep, and loose sections you climbed will still be there as you descend.
How to get there
Take Tanque Verde Road east. Continue 3.7 miles past Catalina Highway to Soldier Trail. Turn left on Soldier Trail. Drive about 1 mile north and turn right on Fort Lowell Road. Watch your speed! This is a residential area with lots of folks walking in the morning. Fort Lowell Road will change to Camino Ancho as it enters the Palo Verde Ranch development. Turn left on Camino Remuda. At 1 mile the road will make a hard left at an artificially aged adobe entry arch and wall. Continue 0.2 mi to the Agua Caliente trailhead parking lot on your right.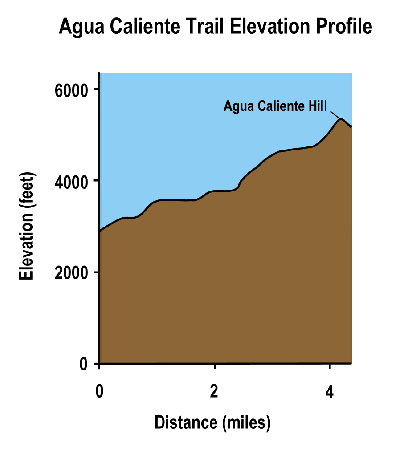 Trail Log
| | |
| --- | --- |
| 0.0 | Start from the trailhead parking lot. The trail will quickly start climbing into switchbacks. |
| 1.6 | Cat Track Tank. Follow the trail along the right side of the tank (waterhole may be dry). |
| 2.4 | Steep, technical, and loose climb. If you can ride it all you're a far better climber than I. If not, get your walkin' shoes on. |
| 2.5 | Saddle with great views. Trail climbs up the hill to your right. Take advantage of the shade. It's the last you'll see. Good place to turn around if you're smart. If not, prepare for a long climb (and hike) up Agua Caliente Hill. [Note: The NFS sign at the saddle gives a 3.0 mile distance to this point with 1.5 miles to Agua Caliente Hill. My distances were measured off the topo map.] |
| 4.2 | Agua Caliente Hill. Gather your strength for the ride down. |
Hike and Trail Run Notes
Trail running time: ~2 hours out and back.
Start early to avoid traffic and heat on the trail.
Stay on the trail. The trail has been widened in places where trail users have bypassed rocky sections. Keep the trail scenic and stick to it.
Bike Notes
Start early to avoid traffic and heat on the trail.
Stay on the trail. The trail has been widened in places where trail users have bypassed rocky sections. Keep to the center of the trail; it's better for the trail and safer for you.
Watch out for hikers, horses, goatherds and yield the trail, smile, and wave. In most cases they will encourage you to pass, possibly thinking that anyone crazy enough to try and ride this trail needs all the help they can get.
Watch your speed on the descent, especially as you near the trailhead. There are many blind curves and you don't want to hit someone, startle a horse, or cause unnecessary trail damage by skidding. Ride under control. You're also less likely to hurt yourself, too.
Trail maintenance can be dangerous if you're not paying attention. The lower trail has railroad tie sections across the trail to divert water and reduce trail erosion. These can be slick when climbing and throw you on the descent.