50 Year Trail North
Discontinued

Santa Catalina Mountains
Tucson, Arizona

Distance: 8.8 miles
Type: mixed trails
Time: 2-5 hours
Season: all but summer
Elevation Range: 3200-3520 ft
Permit Required: Yes, Arizona State Land Department Recreational Permit.


Updated 3/31/02
Complaint Department
I have been riding this trail for more years than many riders have been alive. The trail description was first posted in 1997 and sat quietly for 5 years, helping riders find their way and ride responsibly. In a few short months, the number of complaints received from riders and residents about this (now defunct) description have exploded out of obscurity. According to those complaints, I am responsible for showing riders where to trespass, telling teenagers where to party, preaching that riders shouldn't trespass, giving mountain biking a bad name, well, you get the idea. Sorry, no more guide. My apologies to future riders who will not reap its benefits.
Know Before You Go
If you're going to ride this trail, there are a few things you should know.
The popular parking area at the end of the pavement on Golder Ranch Road is State Trust Land. That means you must have a current Arizona State Land Department Recreational Permit for your vehicle. If not, you are, as the sign says, trespassing.
Once you cross the cattle guard east of this parking area, you are on State Trust Land. That means you must have a current Arizona State Land Department Recreational Permit on your person. If not, you are, as the sign says, trespassing. It is possible that trail users will be stopped and permits checked in the future. That could significantly reduce the trail fun factor.
FR 642 ends at private property closed to all trail use. FR 642 runs into a fenced parcel at Sutherland Wash. A locked gate prevents motor vehicle access and bears a disfigured but still readable 'No Trespassing' sign. As a courtesy to resident trail users, the property owner once allowed pass-through privileges via step-over gates. No more. Unidentified users have cut fences and destroyed trees to make it easier to trespass.
Ride it in, ride it out. Take your trash out with you.
Don't cut new trails. Cutting trails is not only illegal, it causes damage that will take the desert years to recover from.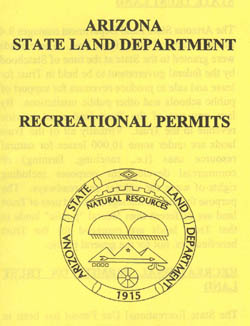 Ride Responsibly
Respect others by riding with courtesy, yielding the trail, and obeying laws.
Buy a Recreational Permit to ride on Arizona State Trust Land. It's easy. Just call 628-5480 in Tucson and ask. The individual permits are $15/year, or were in mid-2001. The folks there are very helpful, knowledgeable, and usually get your application out the same day. Permit fees help keep trust land open to public use. Do it to support continued mountain biking access to these lands. If that doesn't work for you, do it because it's the law.
Follow the rules. The permit allows you to use trust land within defined limits. Check out the booklet when you get it. It does not allow you to cut trails, cut fences, harass livestock, 4-wheel off-road, mountain bike off designated trails, or have a party, among other things.
No Trespassing signs mean just that. Respect private property. You don't want strangers riding through your backyard, cutting down fences and chopping down trees, so stay out of their's. It's not only respectful, it's the law.
Some Good News
From what folks at Sonoran Desert Mountain Bicyclists have passed along, they are working with the County Line Riders equestrian club, Pima Trails Association, and the Arizona State Land Department to address these and other problems. Don't be surprised if you see bike patrols cruising the area and checking permits, watching problem areas, and reminding ORVs to stay off the trails.